Lowongan Kerja SALES di Jakarta Barat Terbaru Hari ini
Lowongan Kerja SALES di Jakarta Barat
Hi sobat! Apa kabar? Kami sedang membuka kesempatan berkarir posisi SALES yang mungkin bisa menjadi pintu gerbang sukses untukmu! Kami mencari seseorang yang ceria dan mempunyai kemampuan yang luar biasa untuk bergabung bersama kami. Jika kamu suka tantangan dengan pekerjaan SALES, maka ini adalah kesempatan yang tepat untukmu! Jangan ragu untuk apply sekarang juga kepada kami. Kami sudah tak sabar untuk bertemu denganmu dan menyambutmu sebagai bagian dari tim kami.
DESKRIPSI LOWONGAN KERJA SALES
Company Description
PT Akses Mandiri Indonesia is a company founded in 2012, providing affordable and high-quality attendance machines and security systems in Indonesia. The company offers "Aksesmandiri.id" as an easy solution for consumers in the attendance and access control machines field, and "Absendulu.id" as a software-based attendance solution for organizations to efficiently manage their employees' attendance.
Role Description
This is a full-time on-site role for a Sales at PT Akses Mandiri Indonesia in Jakarta. The Sales will be responsible for day-to-day sales activities, providing exceptional customer service to clients, offering training to customers on how to use the products and services, and assisting with sales management.
Qualifications
Bachelor's degree in Business, Marketing, or a related field. A Master's degree is a plus.
Proven track record of at least 3-5 years in B2B sales, preferably in the SaaS industry.
Familiarity with CRM software and sales automation tools.
Experience in managing the entire sales cycle, from prospecting to closing deals.
Demonstrated success in meeting or exceeding sales targets and quotas.
Skills and Abilities:
Excellent communication and interpersonal skills.
Strong negotiation and persuasion abilities.
A deep understanding of SaaS products and the ability to convey their value proposition effectively.
Ability to analyze and interpret data to make informed sales decisions.
Strong problem-solving skills and a proactive approach to sales challenges.
Exceptional organizational and time management skills.
Adaptability and a willingness to stay updated on industry trends and product knowledge.
Proficiency in Microsoft Office Suite and CRM software (e.g., Salesforce, HubSpot).
Self-motivated and driven to achieve and exceed sales goals.
Job Description:
As a Sales for our SaaS company, you will play a critical role in driving our revenue growth by identifying and acquiring new business opportunities. You will be responsible for selling our SaaS solutions to potential clients, building and maintaining strong relationships, and achieving or exceeding sales targets. Here's what you can expect in this role:
Responsibilities:
Prospecting and Lead Generation: Identify and target potential clients through various channels, including cold calling, email campaigns, social media, and networking.

Product Knowledge: Develop a deep understanding of our SaaS products and their unique value propositions to effectively communicate how they can meet the specific needs of potential clients.

Consultative Selling: Engage in consultative sales discussions with clients to understand their challenges and objectives, and provide tailored SaaS solutions to address their needs.

Sales Presentations: Create and deliver compelling sales presentations and demonstrations to showcase the features and benefits of our SaaS offerings.

Pipeline Management: Maintain an organized sales pipeline, tracking leads, opportunities, and sales activities in our CRM system.

Negotiation and Closing: Lead negotiations, handle objections, and work to close deals while ensuring favorable terms and pricing for both the client and the company.

Client Relationship Management: Build and nurture long-term relationships with clients, ensuring satisfaction and exploring upselling opportunities.

Market Research: Stay informed about industry trends, competitor offerings, and market changes to adapt sales strategies accordingly.

Reporting: Provide regular sales reports and forecasts to management, detailing progress, challenges, and opportunities.

Team Collaboration: Collaborate with cross-functional teams, including marketing and customer support, to align efforts and enhance the overall customer experience.
Informasi LoKer Posisi SALES di PT. AKSES MANDIRI INDONESIA
Tingkat Pekerjaan : Pegawai (non-manajemen & non-supervisor)
Kualifikasi : Tidak terspesifikasi
Pengalaman Kerja : 3 tahun
Jenis Pekerjaan : Penuh Waktu
Spesialisasi Pekerjaan : Penjualan / Pemasaran, Penjualan Ritel / 503, 145
Tentang Perusahaan PT. AKSES MANDIRI INDONESIA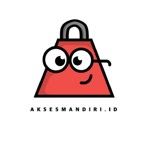 Incorporated in 2012 PT. Akses Mandiri Indonesia has achieved a very rapid economic development of the company. PT. Akses Mandiri Indonesia is a security system product company consisting of Attendance Machines, Door Handles, Access Controls, Lift Controllers, Flip Barrier Gates, X-rays, Metal detectors, and CCTV needs. Being the only company in the field of distributors of professional and quality attendance and access control machines is our goal.
We have completed many large projects, both government projects, BUMN companies and private companies. Like the Malaysian Embassy, PT. Kimia Farma Tbk, Indofood Group, MAP Group, Banks, etc. Expanding marketing throughout Indonesia is part of our mission, as evidenced by the number of resellers and retailers we have.
Informasi Tambahan Perusahaan PT. AKSES MANDIRI INDONESIA, Jakarta Barat
Ukuran Perusahaan : 1- 50 pekerja
Waktu Proses Lamaran : 19 hari
Industri : Retail/Merchandise
Tunjangan dan Lain-lain : Tip, Asuransi kesehatan, Bisnis (contoh: Kemeja), Senin - Sabtu
Lokasi : Jakarta Barat


Terima kasih sudah mampir ke halaman lowongan kerja SALES kami yang bersemangat tinggi! Kami harap kamu merasa tertarik untuk menjadi bagian dari tim kami yang kreatif dan berlimpah keceriaan. Jangan lupa untuk bawa semangatmu yang bersemangat energi dan kegembiraan saat menghadapi tantangan di tempat kerja nanti ya! Dan jangan lupa, jangan pernah berhenti bermimpi dan mencapai kesuksesan. Apapun bisa terwujud dengan usaha. Sampai bertemu di tim kami yang berenergi tinggi pada posisi SALES.